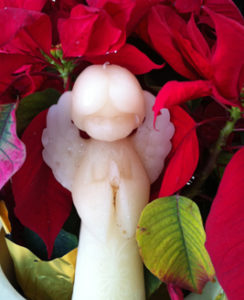 "The Holidays greet you where you are. No matter what is happening in your life, suddenly the familiar wave of frenetic activity descends upon you, whether you feel ready for it or not. Some people love this time of the year. Yet if you have gone through a big loss in your life, loss of a loved one, recent loss of a job or a dream, you can feel extremely vulnerable and emotional."
Honor what you need as the year draws to a close. Greet yourself with tenderness. Take it slowly and listen to your heart. The love that you are never truly loses love for you are the cup that runneth over, even when you feel dried up like an old piece of discarded fruit. You can only see what you perceive, such as when life seems like one grey low-lying cloud in a vast, endless sky. The sun is always present, even when it is unseen.
Tenderness is a beautiful habit to cultivate. Treating yourself tenderly soothes raw nerves, replenishes and brings out the best in you. Answers, wisdom and love arrive naturally the deeper you delve into relaxed acceptance, appreciation and simply being. There is a beauty to this season of the light, whatever tradition you celebrate. When you turn your attention to love, the warmth of love flows out to greet you.
Here are three tender steps to take whenever you feel overwhelmed, sad, angry or even hopeless: [Read more…] about Try A Little Tenderness – Loss, Love and the Holidays