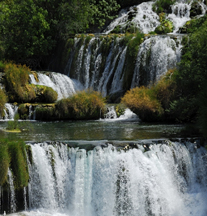 Most of us have days, hours, or for some, extended periods of time when we feel burdened by life. Peering out from the weight of problems or just feeling plain pissy, we lose our bright, joyful self that is miraculously burden-free, watching our inner sparkle become a mere misty memory at best.
I've chosen to dedicate myself to my inner sparkle, to keeping my joy alive. I think it needs dedication because life never ceases to shower us with its gifts, then rock our boat. Part of the challenge of life, is that it is very easy to lose our joy.
How well do you know your joy?
Has your joy drowned in a sea of responsibilities, a swamp of seriousness, or is it tangled up in a thicket of gnarly obstacles?
Think of your joy like a mountain spring that continually sources fresh, sparkling clear water. You simply have to locate the spring again, each time you move away from it.
One simple way to get closer to your joy again that works for me is to be willing to drop everything, all my concerns, desires, worries and frustrations to simply be in the present moment. You become an empty vessel. It's like clicking the "refresh" button on your computer.
How do you do this?
Try letting go of everything you're holding on to with your mind and emotions for five minutes. Imagine you're on vacation. Sit down and relax. Let your body take some deep breaths of relief. Nothing to do, just simply be. Look at the sky, trees, anything that is pleasurable.
As you do this, you'll find you start to feel more spacious inside, which means it is easier to hear the whispers from your inner voice. You'll just know intuitively what you can let go of and what you need to still focus on. You'll start to feel a little closer to the wellspring of joy within you.
You are the source of your joy. Your joy is inside you still, like the mountain spring gurgling and giggling, longing to express itself, eager to help you to view life with greater levity. The more you feel the joy of being alive, the more you enjoy your life.
How important is your joy to you? Where does your joy get tangled up or lost? (It's never really lost, just less present.) What can you do today to free up your joy?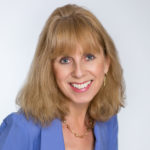 Nicola Walker works with women who want a purposeful, passionate life to navigate the mess (the mind and their life's circumstances and what's happening in the world) so they can flourish and thrive! She has been an inner freedom coach and hypnotherapist for nearly 20 years and is the author of the upcoming book, Joy in the Middle of the Mess: An Evolutionary Adventure of Self Discovery in the Quest for Success.
Subscribe to Nicola Walker Coaching's blog via email